Overview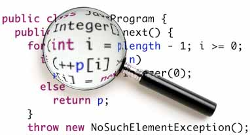 Petroware AS is a software company within the data management, data analytics, petrophysics, geology and reservoir engineering domains. Petroware creates highly advanced software components and end-user products that acts as a research platform within software architecture and scalability, system design, parallelism and multi-threading, user experience (UX) and usability analysis as well as development methodologies and techniques.
Petroware is not a geoscience company making software. Petroware is a software company within geoscience.
Petroware AS is a subsidiary of Logtek AS.
History
Petroware AS was established in 2013 in order to support its parent company Logtek AS with adequate software tools and processes for their operations within well log quality control, petrophysical interpretation, data management and authority reporting. Logtek is the leading company in Norway within quality assurance and well data reporting, responsible for delivering these services to all oil companies operating on the Norwegian continental shelf.
During 2014 Logtek extended their focus to include real-time services, and the technologies of the open source project jwitsml.org was acquired and included in the Petroware portfolio.
Due to increasing market interest for the Petroware technologies and products, the Petroware software has since 2017 been made available for license. This includes the highly advanced Log Studio well log analysis platform as well as the components that Log Studio consists of, in particular the Log I/O library for accessing well log data, and JWitsml for accessing WITSML real-time servers.


Team
Lars Johan Fjell

General Manager

B.Sc. Petroleum Engineering / Sen. Petrophysicist

Founder of Logtek (1997) and co-founder of Petroware (2013). Experience in petrophysics, business process and operations management.

Jacob Dreyer

Principal Software Architect

M.Sc. Computer Science and Mathematics

Co-founder of Petroware. Software developer for the petroleum industry for more than 20 years. Involved in software architecture and development for some of the largest, most complex and most processing demanding systems in the industry.

Responsible for team collaboration, overall system infrastructure and architecture, requirements analysis, feasibility analysis, system specifications, high level design, usability analysis, user interface design, implementation, testing, build management, process automation, system strategy, risk analysis and mitigation, R&D, web content, marketing, social media, customer contact and account management.

Jon Stærkebye

Corporate Strategy Advisor

Business Manager / M.Sc. Mathematics and Geophysics

Experienced Chief Executive Officer with a demonstrated history of working in the oil & energy industry. Skilled in business process, petroleum, operations management, IT strategy, and business transformation.